For women who love to sing
View Latest: Spring Concert, Enough is Enough! Guest Annabelle Chvostek 2023, Winter Concert Video, Joyful Banner Blazing - A Conversation with Marie Dunn, ECHO!! Revived, Digital Now, Canada Council grant…
View Latest: Spring Concert, Enough is Enough! Guest Annabelle Chvostek 2023, Winter Concert Video, Joyful Banner Blazing - A Conversation with Marie Dunn, ECHO!! Revived, Digital Now, Canada Council grant…
Experience the joy of singing in community
Echo is committed to:
Inclusive membership
A rich repertoire
Musical excellence
Reflecting social justice values in our music and activities 
Passionate expression
We have two main concerts at the close of each term (early December and mid-May).  We have additional fundraising events in different parts of Toronto, which have included special concerts, jazz nights, and dances.
We also perform regularly at grassroots events in collaboration with other Toronto organizations. 
ECHO is a choir of women from all walks of life, all ages and professions based in Toronto, Canada.
We celebrate diversity in our members and our music. We are a community-based, non-affiliated organization. Echo welcomes any woman who loves to sing and can make the weekly rehearsal commitment.
What's an Echo Concert Like?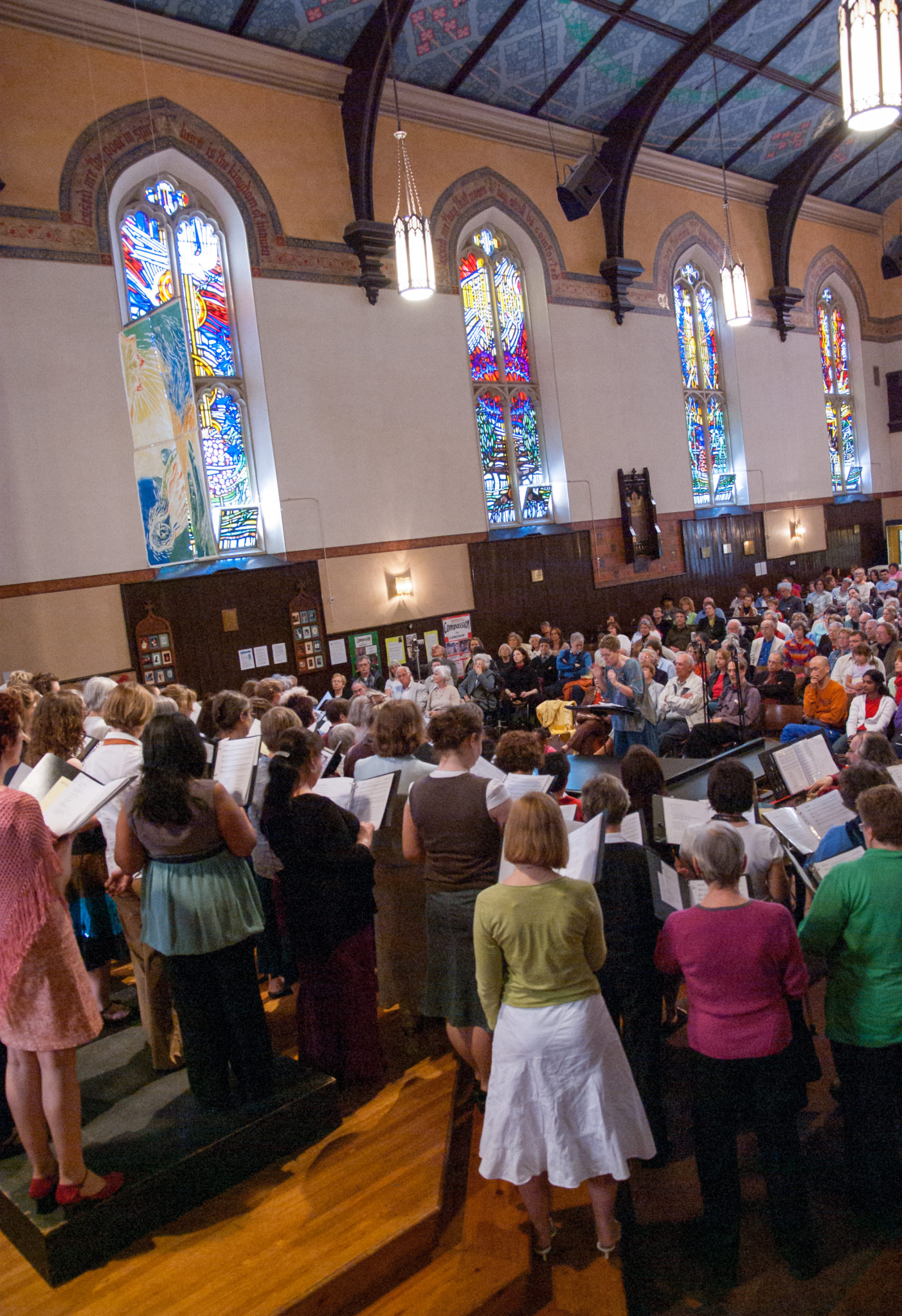 Concert Report: Echo Women's Choir, Making Noise
Echo Women's Choir is […] an open and welcoming ensemble that proves that music is a surefire way to not only build community, but also to leave it changed.
[…] what Echo brings cannot easily be summed up by just performance alone. There's a history and a story in the faces of the choir; these are activists, community changers, and beacons of a world we wish to see. Under the leadership of Becca Whitla and Alan Gasser, the ensemble has access to folk, historical, and contemporary music arranged just for Echo.
There's a community at play here – bringing people together, sharing music, and being political.
Echo Women's Choir - Singing in Toronto
Contact Us (we'd love to hear from you!)
Want to Stay in Touch? Sign up for occasional announcements and newsletters
Echo is grateful for the ongoing support of the Toronto Arts Council and the Canada Council for the Arts