ECHO is a strong, varied and vibrant choir that cultivates the beautiful and powerful sound of adult women's voices. We take great joy in singing together and in sharing a rich and diverse repertoire with our audiences at our concerts and at grassroots events around the city.
Each of our semi-annual concerts, in May and December, features a guest artist who has worked with the choir to bring us new skills, insights, and songs.
The music we sing reflects themes of joy, struggle, resistance, and love for one another and the Earth. It includes:
traditional folk songs in a variety of languages from around the world
music we have learned from our guest artists
work by contemporary Canadian composers
music from the jazz, blues, classical, modern folk and rock traditions
One Voice, our 25th anniversary CD with our favourite songs from 2002 to 2018, is now available.
ECHO is dedicated to remaining an accessible community to all people in Toronto by allowing a sliding scale for membership fees and for concert tickets.
Echo began in 1991 when Sarah John and Becca Whitla formed this community-based women's choir. After Sarah's departure in 1993, Alan Gasser joined as co-director. From the original 16 voices, Echo has grown to a strength of 80 members.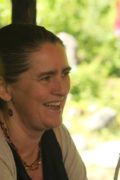 Becca Whitla
Founding Director (On Leave for the 2019-20 season)
Becca works as a community music maker and teacher in Toronto. For Becca, music is a critical, vibrant and healing part of community life.
Becca:
is Co-founder and Co-director of the Echo Women's Choir
is Director of Chapel at Emmanuel College, University of Toronto
has a PhD in Practical Theology from the University of Toronto.
She has also been the leader of the HERE Union Local 75 choir, music coach and consultant for the innovative and ground-breaking Theatre Gargantua, the music director for over 20 years at the Church of the Holy Trinity, and a teacher for Worldsongs Vocal Camp and Village Harmony summer singing camps. In 1998, she and Alan released the CD "Parlour Songs & Heart Songs." She also recorded an CD with HERE choir (I Still Have Joy) and Emmanuel College at the Univeristy of Toronto (One God, Many Peoples).
Becca accepted a ten month full-time teaching contract at St. Andrew's College, affiliated with the University of Saskatchewan in Saskatoon, starting from September of 2019. We are all excited for her! See their posting welcoming Becca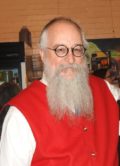 Alan Gasser
Founding Director
Alan is a singer, conductor and music teacher. He grew up in Ohio, singing in an Anabaptist church where his father was a song leader.
He has explored a broad range of musical styles, including
classical music and opera
gospel singing
vocal jazz
experimental works
Eastern European folk music
Alan has worked with the Echo Women's Choir since 1993.
He is a founding member of the Georgian folk Trio Kavkasia, which has recorded three CDs:   Songs of the Caucasus, O Morning Breeze,  and The Fox and the Lion.  Alan also founded Toronto's Georgian folk chorus Darbazi (CD — Darbazi & Friends: music from beyond the Black Sea", and co-founder of World Songs Vocal Camp. Recently Alan established the hospice choir Singing Through Life, which sings in retirement homes all over Toronto.
Alan has taught at all levels from Toronto's public schools to its universities, including the Royal Conservatory.
He has led workshops all around North America, as well as in London (UK), San Francisco, for the Toronto District School Board, and for Village Harmony in Vermont.
Tahirih Vejdani
Assistant Artistic Director for the 2019-20 season
In Becca's absence we welcome Tahirih Vejdani as our Assistant Artistic Director for the 2019-20 season.
Tahirih Vejdani is an actor, singer, music educator, choir conductor and composer. She holds a Bachelor of Music from the University of Regina with a double major in Vocal Performance and Music History.
As a conductor and music educator, she conducts the Regent Park School of Music choirs in Regent Park and Jane and Finch, and has led the Nai Childrens Choir, Toronto World Unity Choir, Florivox Women's Choir and Univox Choir. Over the years, Tahirih has sung professionally with The Nathaniel Dett Chorale, Elmer Iseler Singers, Sing! Festival Singers, the BlackCreek Festival Chorus and is a resident musician at First Unitarian. Tahirih teaches an ensemble singing course at the Center for Indigenous Theatre and is also a private voice teacher.
When she is not teaching or leading choirs, Tahirih works as an actor having performed at various theatres across Canada including the Stratford Shakespeare Festival, The Globe Theatre, Shakespeare in the Ruff, Factory Theatre, Tarragon Theatre, and Driftwood Theatre. Her current creative ventures have led her to playing the mandolin and merlin.
Tahirih is looking forward to working with Echo Women's Choir this coming year!
Alida Doornberg
Section Lead
Mezzo-soprano Alida Doornberg is currently completing her Master's of Music degree at the University of Toronto in the studio of celebrated soprano Monica Whicher.
For the past two seasons Alida has performed with Voicebox: Opera in Concert as a chorus member and soloist. Opera roles include Dorabella in Mozart's Cosi fan Tutte and Cornelia in Handel's Julius Caesar with the Summer Opera Lyric Theatre of Toronto, and she's looking forward to an upcoming performance of the role of Ino in Handel's Semele with the Toronto Lyric Opera Centre.
Alida has participated in many prestigious summer festivals and Young Artist training programs including the Vancouver International Song Institute's French Melodie Immersion program, the Cowtown Opera Summer Academy in Calgary, the Taos Opera Institute in Taos, NM, and "Si parla, si canta" Italian language and opera program in Urbania, Italy. 
Alida is a graduate of the New England Conservatory of Music in Boston where she earned her Bachelor's of Music degree with Honours.
Echo has the pleasure of performing with many wonderful artists.
Contact Us (we'd love to hear from you!)
Want to Stay in Touch? Sign up for occasional announcements and newsletters
Echo is grateful for the ongoing support of the Toronto Arts Council